The WhatsApp Business Platform allows medium and large businesses to communicate with their customers at scale by integrating WhatsApp APIs to connect thousands of agents and bots to interact with customers programmatically and manually.
WhatsApp is a highly-regulated channel, and getting started requires documentation and approval from Facebook. The two main factors that WhatsApp takes into consideration are your business industry, and the types of message content you intend to send on WhatsApp.
The following industries and types of content are not allowed on the WhatsApp Business Platform:
Independent software vendors

Software services

Real cash gaming (gambling)

Adult content

Alcohol/tobacco/drug-related products (including pharmaceuticals)

Weapons

Health care products/supplements

Other categories not conforming to WhatsApp or Facebook's commerce and community standards
The WhatsApp Commerce Policy provides a complete list of what is allowed and supported on the network. When you apply to use WhatsApp Business Platform, you're agreeing to adhere to this policy.
Types of Messages
WhatsApp supports sending two types of messages.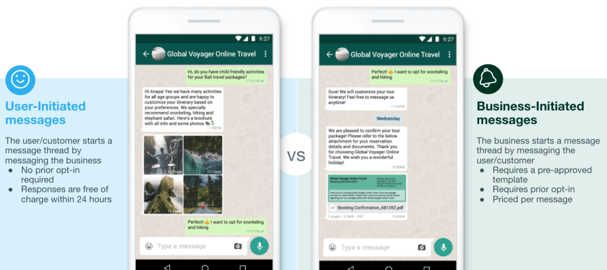 Business-initiated messages can only be sent to users who have opted-in. When sending notifications, you must use a previously approved template.
Business-initiated messages are also called notifications or templated messages throughout the article.
Information you'll need to provide during the application process
When you're applying to use the WhatsApp Business Platform, you'll need to provide information that you can prepare beforehand in order to speed up the process.
Valid website URL – Your website should provide a clear description of your business and products. Facebook page URLs are not accepted.

Industry and product/service details – A description of how you'll be using the business solution and what industry your business operates in.

Business phone number – This is the phone number you want to use on the WhatsApp network. It can be a landline, mobile number, or toll-free number as long as the number has not previously been registered on the WhatsApp network.

Facebook Business Manager ID – Your Business Manager account will be used by WhatsApp to identify your business and to associate your phone numbers with your business.

Here's how you can find your Facebook Business Manager ID or create a new one if you don't have a Facebook Business Manager account yet.

Verified business on Facebook – You are required to verify your business in Facebook Business Manager. You can read more about why this is necessary and how it works here.

Approval of E Ocean to send messages for you – You'll need to approve E Ocean within Facebook Business to send messages via WhatsApp on your behalf. You'll receive the request to approve E Ocean within your Facebook Business Manager account as soon as we submit your application on the WhatsApp Business Platform. To approve:

Log in to your Facebook Business Manager account and navigate to 'Business Settings', then click on 'Requests'.

You'll find our request in the 'Received' requests tab – click on 'Approve'.