Digital Connect Campaign Manager allows you to deliver one-time and recurring personalized promotional messages to your audience on chat channels.
This article will help you get familiar with the basics of building campaigns in the Campaign Manager.
Things to know:
Before you can create a campaign in Digital Connect Campaign Manager, you'll need an audience. Audience is your database of users who engage with your business on Digital Connect through chat channels.
You can also upload a list of your users to build an audience.
Your entire list of users will be automatically stored in your Contacts module in Digital Connect. You can also add a new user to your contacts database from the Contacts module.





As per WhatsApp's policy, businesses are required to get opt-ins from customers before sending a WhatsApp message to them. Ensure to Opt-in your customers when they message your business directly via a WhatsApp thread and ask to receive alerts and notifications. You can also utilize third-party channels such as SMS, email, website and social media platforms to share your WhatsApp Business opt-ins. Customers can reports or block your businesses from sending them messages. When this happens, WhatsApp will place your business under a low-quality rating and if this continues for a long period of time, it can even result in your WhatsApp business number getting flagged.
Campaign Types
Many of your campaigns may be useful as one-time messages to recipients, such as a promotion for a new product line to an audience segment. In this case, you would create the campaign and choose to send it immediately or at a scheduled date and time. The campaign is sent to the audience segment only once.
You many find that many of your campaigns can be sent on a recurring basis. For example, you want to send a discount coupon on a daily basis to your customers who book a vehicle service appointment over WhatsApp. A recurring WhatsApp campaign means that you only need to create the WhatsApp message and its selected audience segment once. The campaign automatically sends the discount coupon on the recurring basis (daily at 10am) to audience segment that you specify. You can also specify when you want the recurring schedule to stop (for example, after 3 months). Recurring campaigns ensure that you're sending consistent messages in a timely manner to the newest set of users who will qualify for the campaign.
Depending on their context and frequency, you can setup three types of campaigns:
Immediate
On multiple dates
Recurring

Campaign Type: Immediate

Recurring campaigns are sent only once at a scheduled time and date.




Setup a campaign to announce a discount offer on opening of a new store

Campaign Type: On multiple dates
Choose multiple dates campaigns when you want to send a campaign message
on specific dates.
Set up a campaign for specific dates during the last week of the month to deliver a special offer to users to purchase items that were left in their cart by sending them the message with abandoned cart links
Campaign Type: Recurring

Recurring campaigns repeat on Daily, Weekly or Monthly intervals.

Weekly Recurring Campaigns let you send campaigns on specific days of the week – recurring each week, every other week, every third week, etc.

Setup a campaign to send a message to your customers every Sunday at 10 am to avail a discount on grocery shopping.
Audience Types
There are 3 main types of audiences in the Digital Connect Campaign Manager
Entire audience
Includes all your users who have engaged with your business over WhatsApp, Facebook Messenger, Instagram and Google's Business messages.
Active last 24 hours
Includes all your users who have engaged with your business over WhatsApp, Facebook Messenger, Instagram and Google's Business messages within the last 24-hours. In case of WhatsApp users, you can send both WhatsApp template and free form messages without incurring WhatsApp conversation fee. To learn more about 24-hour conversation window, click here.
List Upload
List of users that can be manually uploaded to the account.

Audience Segments
Audience segmentation is the process of dividing your users into different segments based on user attributes and user activity.
With Campaign Manager you can segment your audience based on the following parameters.
Chatbot Menu
Segment your audience based on their interaction with a particular chatbot menu like selecting an option to book a vehicle service appointment via your WhatsApp Chatbot.
Customer Feedback
This type of segmentation is based on customer feedback that they provide after interacting with your chatbot and agents on WhatsApp. It helps fix issues when customers are not happy with the service before spreading negative words about your brand. On the other hand, it enables you to strengthen your relationships with users who already like your brand.
Conversation Tags
In Digital Connect, tags are a way for you to label, or categorize, contacts based on information your agents gather about your customers during a conversation. You can segment your audience based on the assigned tags.
Customer Attributes
This type of segmentation is based on user attributes. Age, gender and city are all demographics you can use to segment your audience. This method is popular for a reason: This type of segmentation can be used to target females based in particular city to send a discount offer.


You can use 2 or more of above segmentation types together to expand your reach even further. An example of this is sending a discount offer to a customer who has engaged with your chatbot to apply for a car loan and is is tagged as a premium customer. You can add up-to 5 rules for most segment types.
WhatsApp Campaign Templates
Templates are specific message formats that businesses use to send promotional messages to customers.
In order to build a campaign, you will need to begin with one of our templates. The template you choose depends upon type of audience you have in mind. Both types of templates support simple text and rich content (images, audio, video and documents).
WhatsApp Template
You can only use a message template approved by WhatsApp to send campaigns to your audience outside the 24-hour conversation window. WhatsApp template message is a special message format that you can use multiple times to message users once they have opted in and permitted you to send them messages.

Note: For Promotional content, you should use Marketing category to create and submit templates to WhatsApp for approval.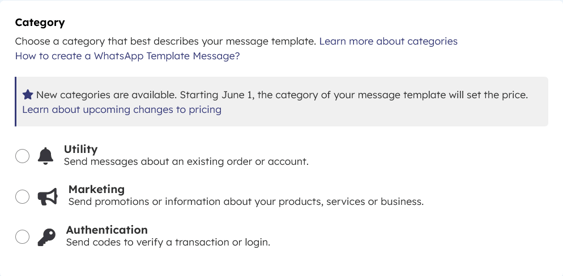 Free Form

You can use a free form template message to send a promotional message to your audience who have interacted with your business over WhatsApp, Facebook Messenger, Instagram and Google's Business messages within the last 24 hours. Free form messages do not require prior approval from WhatsApp or other service providers and do not incur any messaging fee.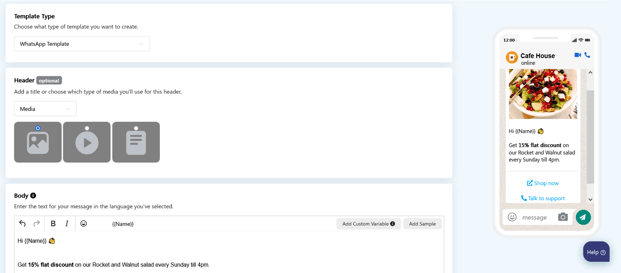 Example of a Promotional message template approved by WhatsApp.
For WhatsApp messages, you can write your text, add variables, and rich content such as images, audio, videos and documents.

However, for Facebook Messenger, Instagram and Google's Business messages, you can only send text and images.
Click here to watch the video tutorial on how to create and send a WhatsApp campaign to your chatbot audience.
Learn more about WhatsApp Campaigns - Use Cases - Best practices and Guidelines